Celebrating Tech Valley Pakistan's 8th Year Anniversary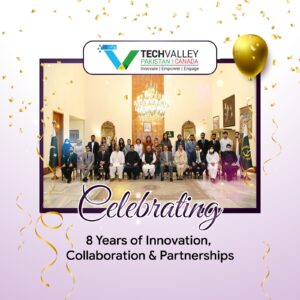 14th June 2023, Islamabad, Pakistan-Today marks a significant milestone in our journey. It's hard to believe it has been eight years since we first embarked on this adventure, launching Tech Valley from a small office in Abbottabad. We've grown from humble beginnings to an expansive team, not only across Pakistan but around the globe.
It would be an understatement to say that these years have been challenging, yet deeply fulfilling. Each day brought its own set of obstacles, but together we overcame them. We've turned each challenge into an opportunity for growth, expanding our capabilities, and refining our visions.
In this journey, we've witnessed our transformation from a small start-up to becoming a revered Google Partner. That was never a small feat, and it's all because of the collaborative spirit and the relentless drive for innovation that each one of you has shown.
We didn't just sell products; we created an environment that champions creativity, encourages innovation, and fosters teamwork. We didn't just develop a company; we built a culture. We proved that our roots in Abbottabad could reach out and influence the world.
Our partnerships have allowed us to make significant strides in the tech industry. With Google as our partner, we have been able to shape the future of technology not just in Pakistan but globally. This alliance has not only validated our work but also challenged us to set the bar higher, to dream bigger, and to relentlessly strive for excellence.
We've made a commitment to our clients, our partners, and ourselves to bring forth the best, most innovative tech solutions, and we've held to that promise for eight years. But remember, we are just getting started.
As we celebrate this anniversary, let's take a moment to recognize the dedication, grit, and creativity that every member of this team brings to the table. Each one of you is an integral part of our journey, and every contribution matters. Let's take a moment to acknowledge the determination that's been the bedrock of our success.
Thank you for eight amazing years. The journey so far has been unforgettable, but the road ahead is even more exciting. Let's step into the future together, with the confidence and knowledge that Tech Valley is unstoppable when we stand together.
Happy 8th Anniversary, Team Tech Valley! Here's to many more years of innovation, growth, and success.
Sincerely,
Umar Farooq