Azad Jammu & Kashmir IT Board partners with Tech Valley Pakistan to Distribute Google Career Certificates Scholarships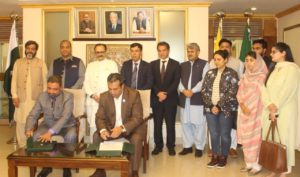 28th March 2023, Islamabad – Azad Jammu & Kashmir is proud to announce its partnership with Tech Valley, Pakistan to distribute scholarships for the Google Career Certificates program. This program is designed to provide learners with the skills and knowledge necessary to launch a career in high-growth fields such as cybersecurity, data analytics, and digital marketing.
The Prime Minister of Azad Kashmir, Special Assistant for IT, Secretary of IT, and Director General of the IT Board welcomed this initiative and expressed their determination to increase these scholarships for Azad Kashmir and transform the state into a knowledge valley.
Under the MoU, Tech Valley in collaboration with the AJK IT Board will provide scholarships for Google Career Certificates to officers and graduates of universities and government departments across Azad Kashmir to enhance their skills and increase their chances of career growth.
The Google Career Certificates program is a flexible, self-paced online training program that can prepare learners for careers in various high-growth fields. The program includes specialized training, assessments, mentorship sessions, and hands-on practical experience. Additionally, the program is taught and developed by Google employees with decades of experience in these fields.